I think it's time I post a proper biography so here it is. Here's who I really am and what I'm really all about.
I was born in Bronx, New York, February 24, 1958 - a full month early. I was the victim of a premature placental detachment and was in critical condition upon birth. The doctor told my parents I wouldn't survive the night. The fact that I am alive today proves the doctor was wrong but the medical profession didn't know as much then as it does today so I don't fault the doctor back then for his erroneous diagnosis. Keep in mind that medical treatment back then was equally primitive. I was placed in an incubator and left to live or die. Fortunately the human species is an exceptionally hearty and resilient one, especially in the infant stage, so my survival doesn't justify being called a 'miracle child' but that's what I was seen as back then. Go figure.
I was the middle child in a family of 3 boys and an all but incurable daydreamer. I would drift off into another world at will when I was bored and that happened a lot in my early school years. I would go into trances so deep that the teacher would have to physically shake me to bring me out. They thought I had some kind of neurological problem as a result of my difficult birth but the truth is that they were just boring me so much that I preferred my daydreams. There was also the fact that I found life in this 'reality' disturbing and used daydreams as an escape. I was also diagnosed with ADD, Dyslexia and Clinical Depression, conditions I've learned to live with but are still a source of frustration for me. I can no longer daydream at will and the loss of this ability pains me to this day. I fully acknowledge that the loss of this 'talent' was necessary because I would still be using it to escape reality. I've also suffered from Hypegiaphobia (Fear of Responsibility) most of my life, a serious contributor to my addiction nightmares. Of course I lived in denial of my neurological and psychological deficits until I was forced to face them all head on back in 2005. I think it's amazing I didn't self destruct. I have a few strengths that offset my weaknesses, to be sure. I have an amazingly potent imagination which I've been reluctant to fully utilize, in writing fiction for example, because I'm terrified that I wouldn't be able to handle the fame that could possibly result from a series of best sellers. We've all seen what this can do to people and I'd just as soon avoid it. I'm taking enough of a risk with this gallery but I need to have a purpose and that outweighs the risk. My emotions are also extremely powerful, which in some ways can be viewed as a strength. I consider true friendship to be the most sincere expression of love and I wouldn't hesitate to give my life for someone I consider to be a true friend. That level of loyalty is extremely rare in this world, IMHO. Lastly, I consider the search for the truth of our existence to be the primary purpose of our lives, not this pointless perpetually recursive rat race existence most people consider to be what life is all about.
I don't see my education as all that impressive but considering the present school system in New York City . . . I guess I did pretty well. I attended St. Jude's Grammar School in Northern Manhattan and graduated in 1972. I then attended Cardinal Hayes High School in Bronx, NY and graduated with a New York State Regents Diploma in 1976. The high point of that stage of my education was being named an alternate on the Regents Scholarship Examination, which came as a complete surprise because I wasn't what you might call an 'Honors Student'. The only reason I can think of for my making the 'alternates list' was that I had no intention of attending college so I wasn't under any stress to do well on that 5 hour examination. Needless to say I was the object of scorn from more accomplished students who didn't score as highly as I did. The reason I had no plans for college was that during my studies at Cardinal Hayes I received my first experience with a computer, a Data General Corporation NOVA 2/10, what in that year passed for a 'Desk Top Computer' because it covered most of the top of a desk and stood about a foot high. It had a whopping 64K of Magnetic Core Memory, the first non-volatile memory technology, and used two ASR 33 teletype machines as terminals. It ran a primitive Basic programming language interpreter as an operating system and was my first experience in computer programming. I was hooked! My plan for after High School became a vocational course in 'Computer Technology. It turned out that during the summer of 1976 a full Regents Scholarship was passed down to me but I finally decided to attend Control Data Institute, a school that didn't accept Regents Scholarships. Oh well. Cutting to the chase here, I scored 97% on the complete course and placed #2 in a class of 30 students. I learned on a true second generation dinosaur mainframe system that filled a good sized room, a mass of transistors and diodes on 3" by 3" circuit cards interconnected by an intricate web of individual wires. Looking back at that oversized calculator I find it truly incredible how far computers have advanced in the passed 3 and a half decades. I made it a hobby to build computers and network them in my home. At one time I was running 12 systems 24/7 processing data for SETI . . . Hey! We can't be the only sentient life in the galaxy, much less the Universe! If we are then I'd be most disappointed. ;-)
My career history can be summed up as 25 years of experience in telecommunications and computers. Now that I look back on it I truly miss the endless hours of tedious wiring and equipment installation. It gave me a real sense of purpose and I don't feel at all like I'm bragging when I say I was an 'Expert'. The personal pride and satisfaction I experienced from a job well done made it worth the lack of recognition for it. The premature ending of my career after upper management committed an unforgivable - in my opinion - act of fraud is a wound that stubbornly refuses to heal. Now that I'm physically unable to perform those duties I feel deprived of a consistent purpose. If it wasn't for my creative inspirations that I'm now fully embracing, and the interest all of you have shown for it, my life would have no real purpose. That thought terrifies me more than anything, more than death itself, because if my life was without purpose I may as well be dead.
All my life I've yearned for understanding, for a reason for my existence. All my life I've felt that the way people act and the way the society I've lived in operates seemed to be full of flaws. As time passed these flaws became more pronounced. Now the flaws have become so obvious I'm amazed that most people don't see them, or actively ignore them. Unlike most of the humans I've encountered I'm unable to just conform to the majority and ignore these flaws in order to fit in. Perhaps the reason for this is my questioning nature and refusal to believe something just because someone tells me it's true. I prefer to reason things out on my own. I've noticed that a lot of people don't like it when their beliefs are challenged and some can become quite hostile over it. I've experienced an enormous amount of cruelty over the years and due to my emotional sensitivity I've endured more than my fair share of pain. Still, I've felt a need to 'belong' to a group, to be accepted. Every time I've tried I've either been rejected or have made the wrong choice, one that was self-destructive, all leading to my descent into alcoholism and drug abuse. What started as an attempt to 'fit in' resulted in my dependence upon a chemical escape from an existence that felt empty and futile. It all culminated in my eventual choice between life and death, the choice between reaching out for help and suicide, the choice between a difficult road out of the darkness into the light of an uncertain future and an easy surrender to a completely pointless end. The fact that you are reading this tells you that I chose the path out of darkness, to face all the difficulties that may come with it and all the possibilities that may result from it. I chose Life.
My message to everyone reading this who find themselves facing a similar choice is this. It may appear that choosing life is the harder of the two choices but it is also the choice of hope. The future is a blank page full of unseeable potential. Choosing the ultimate escape of death brings the story of your life to an irrevocable end. Are you sure you want to cast aside the infinite possibilities of the unwritten page in favor of a tragic and meaningless end? My choice is the unwritten page with all its possibilities. My story is far from over.
This is who and what I am. Some have found me to be an inspiration. This alone gives my life meaning. What is truly valuable in life? Riches? Possessions? Luxuries? I use to crave these things but now I'm happy just to have touched a few hearts, to have set a positive example, to have given the gift of a smile with my creativity. I could die right now and feel satisfied that I've done some good for this world. I'll be remembered as a man who gave of himself freely, a man who offered the world an inspiration and the unique beauty of his individual creativity, asking nothing in return. I may not be a celebrated artist but I have no need to be. All I need is meaning, purpose, acceptance for who I am and what I offer. As long as I've touched one heart I'll be remembered fondly.
Look at this: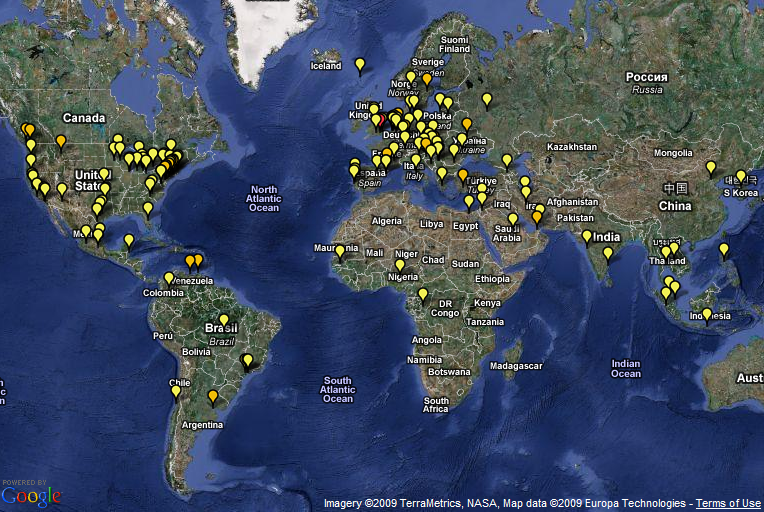 This is the latest map of visitors to this gallery. It looks like I've touched at least a few hearts. :-)
With sincere gratitude to all visitors,
William "Spektyr" Laskorski
April 27, 2009